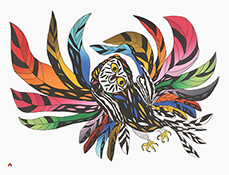 Gallery Gevik is pleased to announce the release of the 2021 Annual Cape Dorset Print Collection. This collection features thirty-two prints, each in an edition of 50, which will go on sale Saturday October 16th, 2021.
This year's collection features the following artists:
Ningeokuluk Teevee, Saimaiyu Akesuk, Malaija Pootoogook, Ooloosie Saila, Pee Ashevak, Quiatsuk Ragee, Padloo Samayualie, Olooreak Etungat, Nuna Parr, Ohito Ashoona, Pitaloosie Saila, Quvianaqtuk Pudlat, and Shuvinai Ashoona.
Click here to view the 2021 Cape Dorset Print Collection
Cape Dorset is an Inuit hamlet located on Dorset Island near Foxe Peninsula at the southern tip of Baffin Island in the Qikiqtaaluk Region of Nunavut, Canada. The Inuktitut name of the village means "high mountains".
Since the 1950s, Cape Dorset, which calls itself the "Capital of Inuit Art" has been a centre for drawing, printmaking, and carving. Even today, printmaking and carving are the community's main economic activities. Each year, Kinngait Studios issues an annual print collection. Cape Dorset has been hailed as the most artistic community in Canada, with some 22% of the labour force employed in the arts.
Between the years of 1959 and 1974, Cape Dorset artists produced more than 48,000 prints. Well-known artists of Cape Dorset include Pudlo Pudlat and Kenojuak Ashevak. Ashevak's drawings of owls have appeared on Canadian stamps as well as a Canadian quarter. Inuit photographer and author Peter Pitseolak spent several years of his life living in Cape Dorset.